The fore part of a tug (04/2000)
Located along the Jacques Cartier basin, the shipyard Saint-Malo Naval (Leroux and Lodz group) was born of the resumption in 1988 of "Ateliers et Chantiers de la Manche" (ACM). It continued this activity by producing among other tuna seiners and tugs.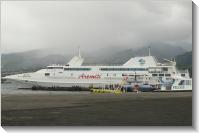 Saint-Malo Naval has been the source of HSV (high-speed vessel) building in 1994 the Emeraude for the compagny Emeraude Lines, then the NGV ASCO and ALISO for the SNCM.
In 1997, the sites are redeemed by Alstom and became Alstom Leroux Naval. This is the year that was built the lastest tug of the port of Saint-Malo, the Davier
The yard built in 1998, the cruise ship "Le Levant" for the Compagnie des Iles du Ponant.
Le Levant in front of the St Louis door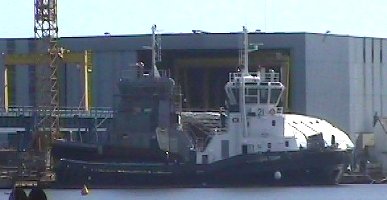 Abeille Fécamp (in white) and Abeille Gascogne
in front of the yard in April, 2000
ALN realised in 2000 an order of
4 tugs
, pushers of 65 tons of traction for the company Les Abeilles SA in Le Havre.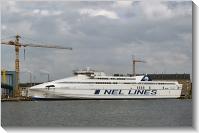 The yard then undertook in 2001 the construction of a new fast ferry for the Greek company Nel Lines, "Aeolos Express II".
Alstom Leroux Naval then made hulls of vessels in subcontracting for other sites, such as lighthouse vessel Armorique of Brest in 2002. The shipyard has unfortunately closed its doors in 2003.